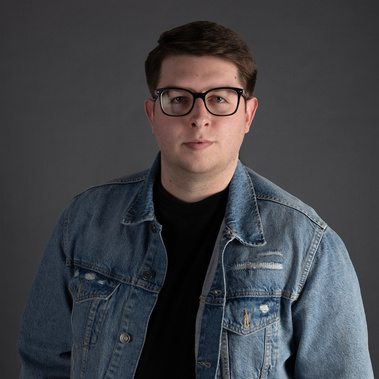 Tristen Rouse is a documentary photographer and photo editor born and raised in rural southwest Missouri. He draws on those small-town roots to photograph topics surrounding politics, religion and culture.
Tristen is currently a photojournalist at St. Louis Public Radio, where he photographs news and tells visually-driven stories for its digital platforms.
Previously, Tristen has interned at The Washington Post, photo editing on the national desk. While at The Post, he worked with the health and science team, the politics team and the Tokyo Olympics coverage team, and he wrote for The Post's photography blog, In Sight. Tristen has also interned as a photo editor at The Columbia Missourian, a daily newspaper covering mid-Missouri, where he worked with the investigations and special projects team. Prior to photo editing at The Missourian, Tristen worked as a general assignment photographer and as a photographer on the state capitol coverage team.
In 2023, Tristen earned a Master of Arts in Journalism from the Missouri School of Journalism. While in graduate school, he worked as the production chief for the Angus and Betty McDougall Center for Photojournalism Studies, where he curated and printed exhibitions for the McDougall Center Gallery. In 2021, Tristen graduated from the Missouri School of Journalism with a Bachelors in Journalism. In 2020, he studied at the Danish School of Media and Journalism, having been selected for its international photography program.
Photo by Madi Winfield
Awards
2023: Missouri Press Association Better Newspaper Contest, Best Feature Photograph — Second Place
2023: Recipient of the G. Thomas Duffy Fund
2022: Missouri Press Association Better Newspaper Contest, Best News Photograph — Third Place
2021: College Photographer of the Year, Documentary — Silver

2021: College Photographer of the Year, General News — Silver

2020: College Photographer of the Year, Sports Feature — Bronze

2020: Hearst Photojournalism Competition — Semifinalist

2020: Society of Environmental Journalists, Outstanding Student Reporting — Honorable Mention

2020: Missouri Press Association Better Newspaper Contest, Best Sports Photo — First Place

2020: Missouri Press Association Better Newspaper Contest, Best Sports Feature Photo — Honorable Mention

2020: Missouri Press Association Better Newspaper Contest, Best Photo Package — First Place (staff award)

2019: Associated Press Sports Editors Contest, Division D, Action Photo —Fifth Place